(Click on images to see larger views, and on 

red text

 for links.)
Ron was born in Bothell on December 21, 1916, in the Clara Gardner Nursing
Home.  His parents were early Bothell residents, Charles Henry Green and
Sarah Elizabeth Simonds Green. His brother Gordon was born November 26, 1921.
| | |
| --- | --- |
| | |
| | |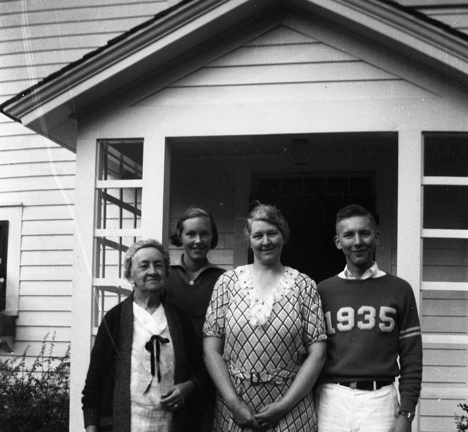 Graduating from Bothell High School in 1935, he earned a degree in Business Administration from the University of Washington in 1939. While at the UW he was active in the Sigma Phi Epsilon fraternity, the YMCA, student theater productions, and he became a lifelong Husky fan.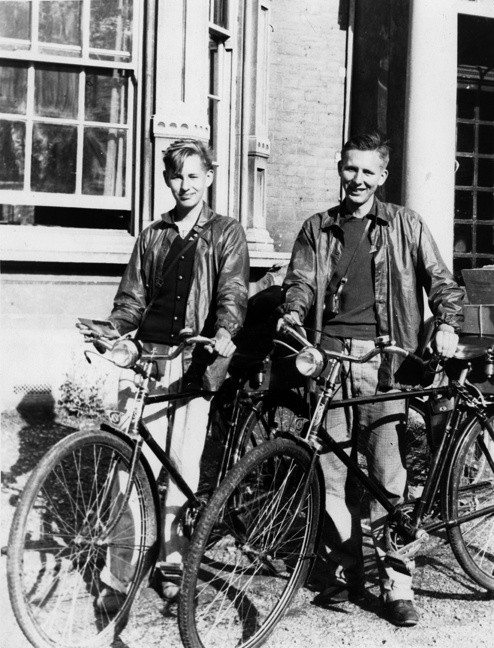 With several university classmates and his brother Gordon, he went on a life-impacting
bicycle tour of Europe in 1938.
But most importantly,
he met the love of his
life, Eleanor Bird,
at the UW Varsity Ball
during their freshman year.

They married in December, 1939.

After working for the U.S. Post Office in Seattle, he became an investigator with the Wage and Hour Division of the U.S. Department of Labor.

| | | | | |
| --- | --- | --- | --- | --- |
| In August, 1943, he joined the U.S. Army Air Corps, serving as navigator instructor until the end of World War II. | | Returning home to Bothell, he worked with his father at the Ford dealership and repair garage founded by Charles Green in 1919. In 1954, Ron became sole owner of Green Ford. | | |
During these years, he and Eleanor
raised three children in their
Bothell home:  Ronald, Janet,
and Darrell. The family
enjoyed weekend camping
trips and longer vacations by car.
 
| | | | | |
| --- | --- | --- | --- | --- |
| He sold the business in 1965 and moved to Olympia to become Administrator of the Division of Dealer and Vehicle Licensing in the State Department of Motor Vehicles. |   |   |   | Retiring in 1980, he and Eleanor returned to the family home in Bothell.   Beginning in 1999, they enjoyed living among their many friends at the Brittany Park retirement community in Woodinville. |
He was a Past Master of Ashler Lodge #121 F. & A.M., and a Shriner. Proud of his service in World War II, he joined and remained a member of the American Legion for the rest of his life. Deeply interested in local history, he and Eleanor served as their church's historians and were hosts at the Bothell Historical Museum, and active board members of the Bothell Historical Society. They were instrumental in compiling and publishing  A Slough of Memories, a book of personal accounts of Bothell-Kenmore-Woodinville history.
Ron's lifelong interest in international friendships brought frequent guests from abroad into the family home, and Ron and Eleanor traveled extensively during their retirement years. He had been instrumental in bringing exchange student programs to Bothell High School in the 1960s.
In 2000, he received the Bothell High School Alumni
Association Honored Alumnus award.


Ron Green died on March 6, 2010, at the age of 93.
Later that month, former Northshore Citizen newspaper editor and publisher John Hughes paid tribute to him in a special column in the Bothell Reporter.
Since then, he has received additional honors and recognition.  The Northshore School District placed him on its Wall of Honor at Pop Keeney Stadium in 2011.
And in 2015, the new McMenamins Hotel complex named a room for him and created a distinctive painting that hangs on the wall of the former junior high school he attended as a ninth-grader in its first year, 1931-32, with its founding principal W. A. Anderson. (The postage stamp design pays tribute to his lifelong philately hobby.) McMenamins has also posted a biography, which can be seen on the hotel wall as well as in an on-line image.

Ron Green's legacy continues to be celebrated, as we acknowledge his contributions to the community to which he devoted his life.    A YouTube video preserves the 2003 presentation he gave at Brittany Park about Bothell history.
Happy 100th Birthday, Ron Green!
In honor of the 100th birthday of Bothell-born business owner and devoted community member Ronald Simonds Green, Sr. on December 21, 2016, Janet Green Hunter and her husband Richard have pledged $50,000 to the Bothell Historical Museum, one-fifth of it to be given each December over the next five years .